2014 NOMADIC ART CAMP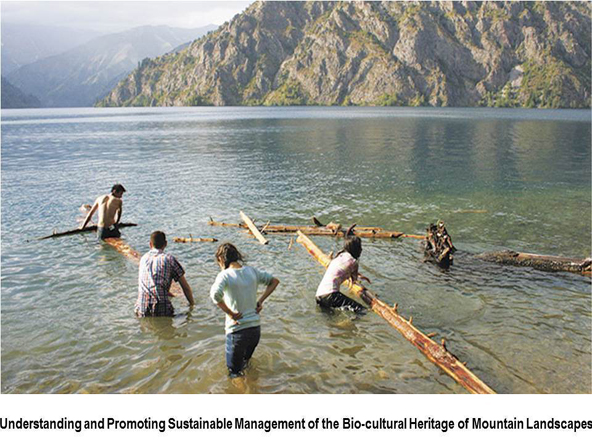 Project is starting with nomadic art camp, which taken place on the coast of mountain Lake Sary-Chelek in Jalalabad region from 28 July to 3 August 2014 and special emphasis made on perception of the young artists (age of most participants of the art camp is from 16 to 24 years old), their vision and approach to cultural legacy, bio-diversity and identity nowadays.
The themes the project had touched upon include: biocultural heritage, pollution of environment, impending rare animal extinctions, poaching damage, organ trafficking, image and identity relationships of humans with nature, gender and gender-based social relationships, destiny of Earth and humanity and the prospect of further biocultural diversity preservation in Kyrgyzstan and worldwide. Young members from various countries used art as a mean of reflection, expression and transformation force in order to contemplate questions regarding environment protection, natural and cultural legacy through the analysis of today's situation, existing threats and future prospects. It is vital for people, especially next generation, to understand that careless attitude is gradually destroying environment, legacy and distinctiveness, of which they dream and to which they strive. Where are we now from the point of our development? What can be done? The Young artists and students from Kyrgyzstan, Tajikistan, Kazakhstan, Germany and Switzerland tried to answer these and many other questions that future will bring us, including natural wealth preservation, traditional knowledge and potential of sustainable environment management through reflection in art and creativity, and made contribution into landscapes protection in the light of destructive influence of contemporary production methods, consumption and entertainment industry. The exhibition From the Past into the Future was from 8 August till 24 October 2014 in the Kyrgyz National Museum of Fine Arts named after G. Aitiev and included artists, students and children works made in the framework of the Nomadic Art Camp. Main objective of the exposition is to attract attention and raise awareness level, especially among young people and different subcultures representatives, in order to strengthen respect for nature, traditions and history, development of special consciousness and striving to being part of countries' mountain landscapes development processes in present and future. It is highly important for people, especially for the next generation, to understand that negligence gradually destroys not only the environment but the very heart of originality, which they dream about and aspire to. Works present at the exhibition highlighted the main topics of the project as well as significance of biocultural diversity in general – equally important for peoples of Kyrgyzstan and Central Asia, as for humanity as a whole.
THE CATALOGUE